LAKEWOOD, NJ / ACCESSWIRE / January 28, 2021 / Despite the extensive range of advancements and developments in the computer and electronics recycling industry over the last 21 years, Albert Boufarah and SAMR Inc. continue to provide top quality customer service.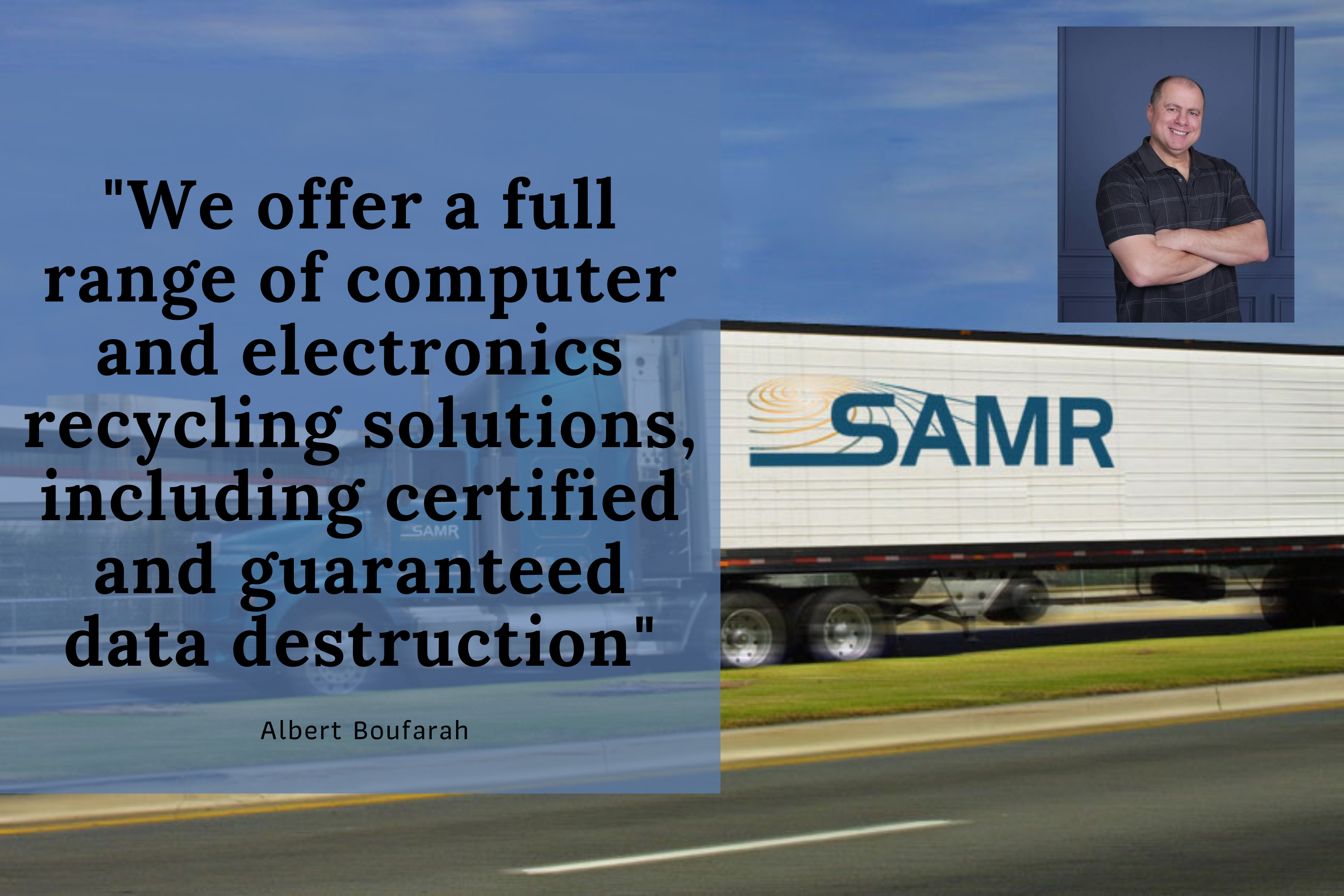 "When we launched our company, our vision was clear: we would provide our clients with the industry's best end-to-end computer and electronics recycling solution, while at the same time do our part to help protect and preserve the environment," commented Albert Boufarah, who is renowned for his entrepreneurial spirit, innovative drive, and relentless work ethic. "I am proud to say that after 21 years and a tremendous amount of growth and success, we continue to remain true to our guiding vision and philosophy."
As for where Albert Boufarah and his team at SAMR Inc. are headed in 2021, all signs point to a very busy year as two powerful trends converge. On one level, millions of people working at home are being crowded out of their home office by obsolete printers, PCs, monitors, fax machines, scanners, and other kinds of e-waste that cannot be safely or legally put out on the curb, and must be recycled at a suitable facility. And on another level, businesses of all sizes are looking to get rid of e-waste that is piling up in warehouses, storage rooms, closets, offices, and even hallways.
"We offer a full range of computer and electronics recycling solutions, including certified and guaranteed data destruction, which is absolutely vital for businesses, hospitals, schools, and all other organizations," commented Albert Boufarah, whose company manages a fleet of over 150 trucks that provide service in Connecticut, Delaware, Maine, Maryland, Massachusetts, New Hampshire, New Jersey, New York, Pennsylvania, Rhode Island, Vermont, Virginia, and Washington D.C. "And in cases where data destruction cannot be 100 percent verified, or when for compliance reasons organizations cannot re-market their e-waste, we have a state-of-the-art device shredder that obliterates drives and devices so that it is physically impossible for data to fall into the wrong hands."
Just some of the glowing testimonials that SAMR Inc. has received over the years include:
"In the medical industry, privacy of customer data is not just important - we absolutely depend on it. You have to make certain that any recycler you use makes data security their top priority. We use SAMR Inc. because we know that they securely wipe all storage devices, and provide certificates that verify their destruction. This is critical for our continued operation, and the peace of mind that this provides will ensure that we are loyal to SAMR Inc. for years to come."
"Our annual recycling event has grown immensely in recent years. We needed a company that could handle the high volume and leave nothing behind. We were relieved that SAMR Inc. had a driver, staff, and enough equipment to collect everything that our residents dropped off with room to spare. There was one year where the response was absolutely massive and we couldn't fit everything in the truck. They came back early Monday morning, picked up all the rest of the equipment, and by the start of the operating day, the parking lot was immaculate. We really can't recommend them enough."
"Nobody knows for sure what the next few years will look like, let alone the next decade," commented Albert Boufarah. "However, I can say with confidence and pride that regardless of what unfolds or transpires, SAMR Inc. will continue providing computer and electronics recycling, done the right way.
That is the essence of where we've been, where we're going - and who we are!"
Contact Information:
SAMR Inc.
[email protected]
https://samrinc.com/
7332-370-4100
SOURCE: SAMR Inc.