NEW YORK, NY / ACCESSWIRE / September 14, 2023 / MAGIC New York returns to the Javits Center September 19-21 highlighting women's trend, young contemporary and modern sportswear apparel, footwear and accessories for Spring/Summer 2024. MAGIC New York presents a growing modern sportswear segment, meeting continuous demand for young contemporary and trend driven brands. SOURCING at MAGIC co-locates with MAGIC to showcase key suppliers and manufacturers.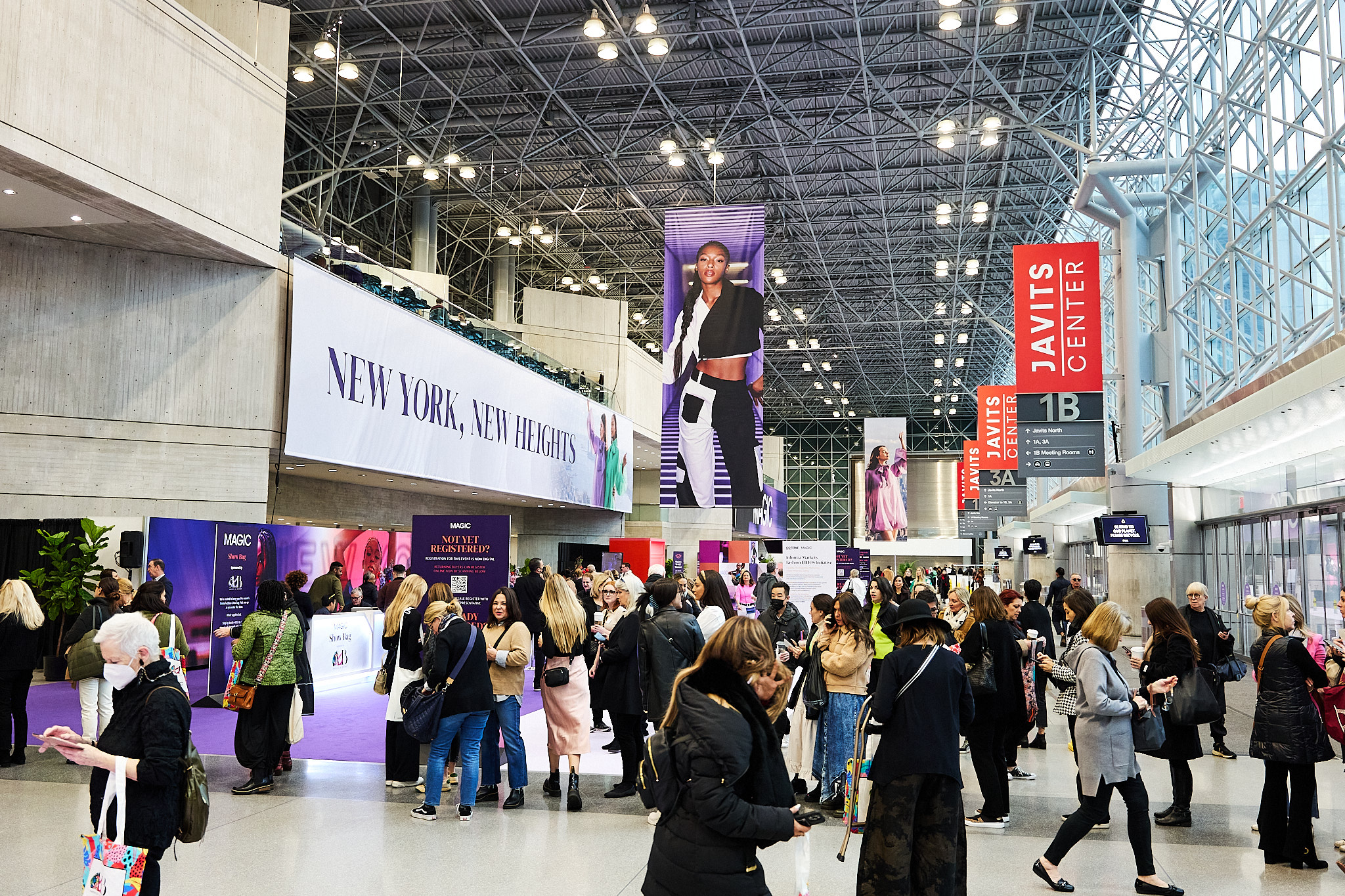 MAGIC New York creates the opportunity for retailers to shop Spring/Summer 2024 on a curated cohesive show floor in women's apparel, accessories, footwear and home, gift and beauty. MAGIC New York brings a wide selection of modern sportswear brands to the show floor including Barefoot Dreams, Caite, Julian Lang, Ciao Milano and Veronica M. Retailers can shop high and low, explore private label opportunities as well as secure immediates.
Launching this September and providing industry expertise to the fashion community, MAGIC New York debuts its first education series. Fashion Snoops Trend Forecaster Melissa Moyan and Kelly Helfman, President of Informa Markets Fashion, present the Top Trends To Shop Session on September 19, and a moderated conversation Curating for Curves: Strategies to Successfully Incorporate Extended Sizing with Gita Omri, Designer and Founder of Omri Essentials, Karen Cohen of MeMoi and Leonidas Monedas, CEO of Mat Fashion, moderated by Emily Benson, Founder at the Boutique Training Academy on September 20.
Supporting efforts around industry wide sustainable and ethical practices, MAGIC will debut the Verified Sustainable by MAGIC program in partnership with Hey Social Good at the September show. Brands are vetted and ranked accordingly to recognize where they are in the journey to becoming more sustainable. This program helps buyers find sustainable brands more easily and trust that they have been verified based on meaningful data points.
"Enhancing our offerings not only through brand extension in both domestic and international categories but also increasing visibility into the breakdown of brands by specifications like sustainable, woman-owned, new to show and more, provides our customers a more tailored experience on the show floor with ease of access to multiple categories, ultimately saving time and creating a more intuitive buying experience," says Jordan Rudow, Vice President, MAGIC. "Introducing the education sessions provides opportunities to learn and enhances the resources that our community can acquire while attending MAGIC New York."
Trending styles for Spring/Summer 2024 include rich neutrals, occasion sets and jumpsuits. Over 300 brands are set to showcase their lines, with a selection of woman-owned, new, international and extended size offerings. Retailers registered to attend MAGIC New York include Free People, Urban Outfitters, Tilly's, South Moon Under, Wantable, Nordstrom, Apricot Lane Boutique, Belk, Madrag and Pants Store.
SOURCING at MAGIC New York co-locates with MAGIC New York hosting manufacturers and suppliers from 13 countries. This selection of exhibitors offers low minimum orders and expediency to market in the mid to contemporary price points. SOURCING at MAGIC highlights a curated variety of exhibitors and product categories including apparel, footwear, accessories, fabric and trim as well as packaging.
"The New York edition of SOURCING at MAGIC provides the sourcing community more opportunities to connect and source materials, expand their networks and implement new resources for their businesses throughout the year, says Andreu David, VP, SOURCING at MAGIC. "By emphasizing sustainability, we provide our audience with insights to make informed and sustainable choices across materials, supply chain services and manufacturing."
The top buyers and retailers registered for SOURCING at MAGIC New York include Nicole Miller, PVH (Calvin Klein and Tommy Hilfiger), Beall's Inc., Rag & Bone, American Eagle Outfitters, Kenneth Cole, Everlast, Macy's, New York & Co. and Robert Graham.
Industry editors are encouraged to attend for the chance to meet with designers and speakers of interest. Members of the press can register to attend at www.reg.fashionresource.com.
For more information on how to attend or become an exhibitor, please visit www.magicfashionevents.com and www.sourcingatmagic.com.
Follow us on Instagram and Tiktok to stay connected.
ABOUT INFORMA MARKETS FASHION
Informa Markets Fashion a division of Informa Markets, a subsidiary of Informa plc, (LON:INF), connects and inspires the global fashion community through online experiences, industry insights, and worldwide fashion trade events, including MAGIC, COTERIE, PROJECT, and SOURCING at MAGIC. From more effective manufacturing and supply chain opportunities to creative design inspiration and retail on the wholesale floor, Informa Markets Fashion's diverse portfolio supports the entire fashion ecosystem - fostering innovation and driving creativity year-round. For more information on upcoming events, please visit: www.findfashionevents.com.
ABOUT MAGIC NEW YORK
MAGIC is a high-energy fashion experience and home to the industry's largest selection of modern sportswear, trend-driven and young contemporary apparel, footwear, and accessories. Fusing scale with curation to drive commerce, creativity, and connections, MAGIC joins a global audience of retail buyers - from big-box to boutique - with influencers, media, and industry thought leaders. More than just events, MAGIC is a deeply rooted community, and a place brands and retailers call home. For more information, please visit: www.magicfashionevents.com.
Follow us on Instagram and Tiktok to stay connected.
Follow MAGIC New York on social and join the conversation: #MAGICNY, @Magicfashionevents, MAGIC on LinkedIn.
ABOUT SOURCING at MAGIC NEW YORK
SOURCING at MAGIC allows fashion businesses, brands and sourcing professionals to connect and collaborate with a community of global manufacturers, suppliers, and service providers. With a strong presence among international exhibitors and attendees and deep domestic connections, SOURCING at MAGIC is a global community. With a forward-thinking approach and commitment to the evolution of the global apparel supply chain, SOURCING at MAGIC consistently provides access to emerging fashion technology, solutions, sustainable resources, educational content, networking, and extended visibility into the industry's most critical global issues. For more information, please visit: www.sourcingatmagic.com.
Media Contacts:
Abby Portwood
PR, Informa Markets Fashion
[email protected]
SOURCE: INFORMA MARKETS - FASHION