Duncan Wardle, one of Orlando's top Thought Leaders, has been featured in INNOVATE® ORLANDO, a premium coffee-table book and online experience showcasing the best of Orlando's innovation ecosystem
TAMPA, FL / ACCESSWIRE / November 26, 2019 / Duncan Wardle has been named an Orlando Thought Leader in INNOVATE® ORLANDO, a premium coffee-table book and online experience that celebrates the best of Orlando's innovation ecosystem. Wardle's firm iD8 & innov8 is also featured.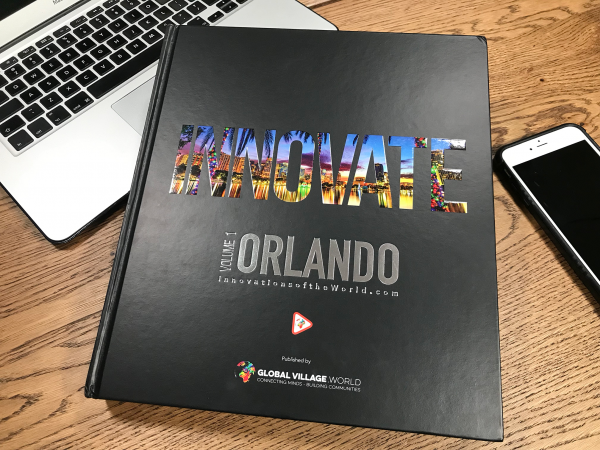 Wardle served for 25 years as Disney's Head of Innovation and Creativity, where he and his team helped companies like Imagineering, Lucasfilm, Marvel, Pixar, and Disney Parks to create magical new storylines and experiences. Today, through iD8 & innov8, Wardle brings his extensive experience and expertise to organizations around the world through a unique approach to Design Thinking. His insight leads companies of any size to overlooked opportunities and connections, disruptive ideas, and, ultimately, revolutionary thinking.
Those featured in INNOVATE® ORLANDO are carefully researched and nominated based on the extent of their contribution to the region's innovation ecosystem. A veteran of his industry and a consultant for NBA, Apple, Johnson & Johnson, Coca-Cola, Twitter, Forbes, and others, Wardle was an obvious choice as an INNOVATE® ORLANDO Thought Leader. His work as an ideation speaker inspires large audiences and small teams alike.
Wardle's ideas and philosophy are presented in two original features in INNOVATE® ORLANDO. His Thought Leader piece focuses on the rise of AI and its effect on the U.S. workforce. Wardle estimates that over 30 million people will lose their jobs to automation over the course of the next decade-but true to his uplifting and motivational approach, Wardle sees the change as a chance for world-changing innovation.
"While data and artificial intelligence can combine to achieve extraordinary things, they will not be able to eclipse the human imagination," Duncan writes in his Thought Leader piece.
The feature on Wardle's company iD8 & innov8 describes Wardle's philosophy on innovation and like his Thought Leader piece, is original to INNOVATE® ORLANDO.
"The traditional ways of doing business are getting completely upended, and no one is giving businesses a tangible toolkit that they can utilize throughout their organization to embed innovation into everyone's DNA," Wardle writes of his iD8 & innov8's origins.
Wardle's inclusion in INNOVATE® ORLANDO reflects his dedication not only to cultivating his own disruptive ideas but also his dedication to helping others reach the same plane.
"Duncan Wardle is truly unique in his abilities and in his experience," says Global Village COO Carel "Callie" Van Graan. "We are so excited to be the platform from which he tells his story."
INNOVATE® ORLANDO is part of Global Village Publishing's growing number of titles. Sven Boermeester, Global Village's founder and CEO, is an avid traveler and conceived of creating the coffee-table books as "love letters" to different cities he traveled to. Boermeester opened his first media company upon completing his business studies in Cape Town and since then has published over 183 INNOVATE® and BEST OF editions across 60 countries.
Duncan's Thought Leader piece and iD8 & innov8's feature are available online, including in the INNOVATE® ORLANDO e-book. Hard copies of INNOVATE® ORLANDO are available through InnovationsoftheWorld.com. More information about Global Village Publishing is available at GlobalVillage.world. To book Duncan Wardle for a speaking engagement, visit id8innov8.com.
Contact Info:
Name: Sven Boermeester
Email: Send Email
Organization: Global Village Ventures
Address: 9307 Wellington Park Circle, Tampa, Florida 33647, United States
Phone: +1-813-453-6199
Website: https://www.innovationsoftheworld.com
SOURCE: Duncan Wardle