Widdlytinks is opening their new online store offering unique farmhouse decor wall art signs that feature personalization options for family names, year family established,city and state.
DALLAS, TX / ACCESSWIRE / October 6, 2019 / Widdlytinks.com is launching their new online store featuring their unique take on modern farmhouse wall art. Widdlytinks has created several new designs for their large canvas wall signs designed for kitchen wall art, bathroom wall art, dining room wall art, bedroom wall art and home interiors. They have also produced a variety of rustic farmhouse family name signs that allow customers to customize the design with their family name, year family established and city and state where the family was established.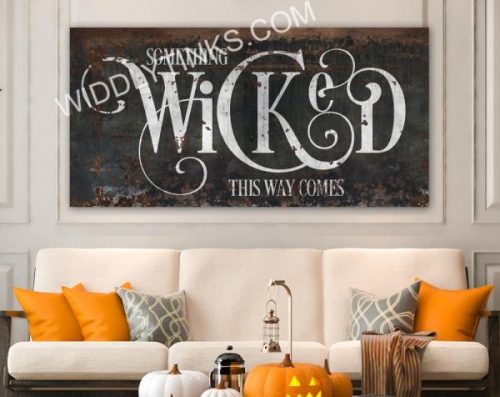 "Widdlytinks rustic farmhouse wall art designs are perfect for upgrading the decor of any home. Because these designs are exclusive to Widdlytinks they are not available in other stores and provide a distinctive flair that will have friends and guests commenting and stir conversation. They also make the perfect housewarming gift for newlyweds, family members and friends. Product sizes vary with the design and may be as small as 24 inches by 6 inches to as large as 60 inches by 40 inches in size. ", says Amy Anderson, designer at Widdlytinks.com.
Several new designs have been created by Widdlytinks.com for the new online store launch including several personalized family name wall signs including "Modern Farmhouse Harvest Blessing Autumn Sign", "Farmhouse Style Last Name Established Sign", "Modern Farmhouse Family Name Established Sign", "Rustic Family Homestead Sign with Cow" and "Vintage Farmhouse Apiaries Honey Sign with Family Name". They are also featuring special new designs for Halloween including "Something Wicked This Way Comes Halloween Wall Decor", a unique custom sign designed to be a showstopping conversation piece for any next Halloween party.
Canvas wall art is a versatile option to bring big impact to a blank wall. With a large variety of sizes and designs to choose from, adding layers of color, texture and interest to your space has never been so easy. Perfect for both home and business environments, a custom piece of art printed on canvas personalizes your space and creates a focal point of interest to beautifully finish off a room. Widdlytinks offers distinctive farmhouse decor canvas wall art directly to the public via their website with delivery to all fifty states of the United States of America. Widdlytinks products are designed and manufactured in the USA and are only for sale within the United States. Widdlytinks offers free shipping on all orders. For more information about farmhouse decor rustic wall art signs by Widdlytinks visit their website at https://www.widdlytinks.com.
Contact Info:
Name: Amy Anderson
Email: Send Email
Organization: Widdlytinks
Address: 6949 Heatherknoll Dr., Dallas, TX 75248, United States
Website: https://www.widdlytinks.com
SOURCE: Widdlytinks